There are many Community Grants available to assist you in reaching your fundraising goals. Whether you are installing a municipal playground, daycare play space., courtyard, accessible pathway or even a lawn bowling green there are community grants for rubber surfacing that are designed to help. Our team is well versed in many of these community grants, and are here to help, contact us today to learn more about community grants for rubber surfacing as well as other grant fundingopportunities.
Community Grants for use of Recycled Rubber
Tire Stewardship Community Grants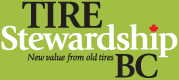 NOW ACCEPTING APPLICATIONS FOR 2022! Contact  a member of our sales staff for quotes and necessary paperwork to include with your application.
Application deadline is March 17,2022
Marathon's surfacings are eligible for Tire Stewardship Community Grants for rubber surfacing across Western Canada.
Tire Stewardship BC is a not-for-profit society formed to manage BC's tire recycling program. The program collects an Advance Disposal Fee, commonly referred to as an eco fee, on the sale of every new tire. The fees are used to pay for transporting and recycling BC generated scrap tires ensuring that the tires are disposed of in environmentally responsible ways instead of ending up in our landfills.
 TSBC Community Grant Program Application 2022
TSBC Community Grant Program Fact Sheet
 Update on the 2021 Municipal Demonstration Grant and the Tire Marshalling Area Grant Program: this grant will not be offered for 2021 due to reduced tire sales during Covid. It is expected that it will return in 2022. Information will be updated when it becomes available.
Kal Tire – Kals Replay Fund 

This grant is now open for 2022 applications! Click here to access the online application form
Deadline to submit your application is February 28, 2022.
Kal's RePlay Fund offers competitive grants to registered Canadian charities and non-profit organizations to access products made from recycled tires in the provinces and territories where Kal Tire does business. The application cycle opens in January each year.
Kal Tire Replay Fund and TSBC Community Grant can be applied for at the same project. 
Government of BC Grants Specific to Daycares

The Childcare BC New Spaces Fund is now closed. All applicants will be notified of the outcome in March 2022. The Fund will reopen for applications in the spring/summer of 2022.
The Childcare BC Maintenance Fund helps licensed child care facilities in emergency circumstances, defined as sudden and unexpected conditions that directly impact children's health and safety or may result in immediate facility closure. The fund is available to assist with the costs of addressing necessary repairs or replacing eligible items.
The Childcare BC New Spaces Fund provides funding to create new licensed child care, helping families access affordable, quality child care and strengthening communities across British Columbia.
Other Community Grants Available
Community Foundations of Canada

Matching grant for up to $15,000 please visit the Community foundations of Canada website for eligibility requirements and to find a Community Foundations of Canada location near you.
Contact a member of our sales team to learn more about Community Grants for Rubber Surfacing!