Marathon Surfaces is committed to practicing sustainability in every aspect of our business. Concern for the environment and promoting a sustainability agenda are integral to Marathon's business and the management of our organization. We endeavor to promote and follow good sustainability practices, to reduce environmental impact of all our activities and to assist clients and partners with similar activities whenever possible.
Recycled Tire Rubber
Marathon uses over 1,000,000 lbs of recycled British Columbia tire rubber every year, redirecting tires from BC's landfills into re-usable rubber safety surfacing products. We also promote community grants such as  TSBC and Kal Tire Replay for the use of recycled rubber in our projects.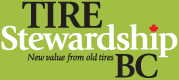 Partnership with native shoes
Marathon is pleased to partner with Native Shoes  in their efforts to keep their shoes out of  landfills. Native Shoes REMIX™ Project encourages its customers to return their end of life shoes (free of charge through a partnership with Canada Post) so they can be recycled into a material that is suitable for reuse. Marathon Surfaces has re-purposed this regrind by adding it into our LANDSAFE System base layer on participating playground projects. The goal of Native Shoes is to have each and every pair of Native shoes 100% life cycle managed by 2023. Marathon Surfaces is doing its part to help them attain this goal.
Projects that have utilized regrind from Native Shoes Remix™ Project